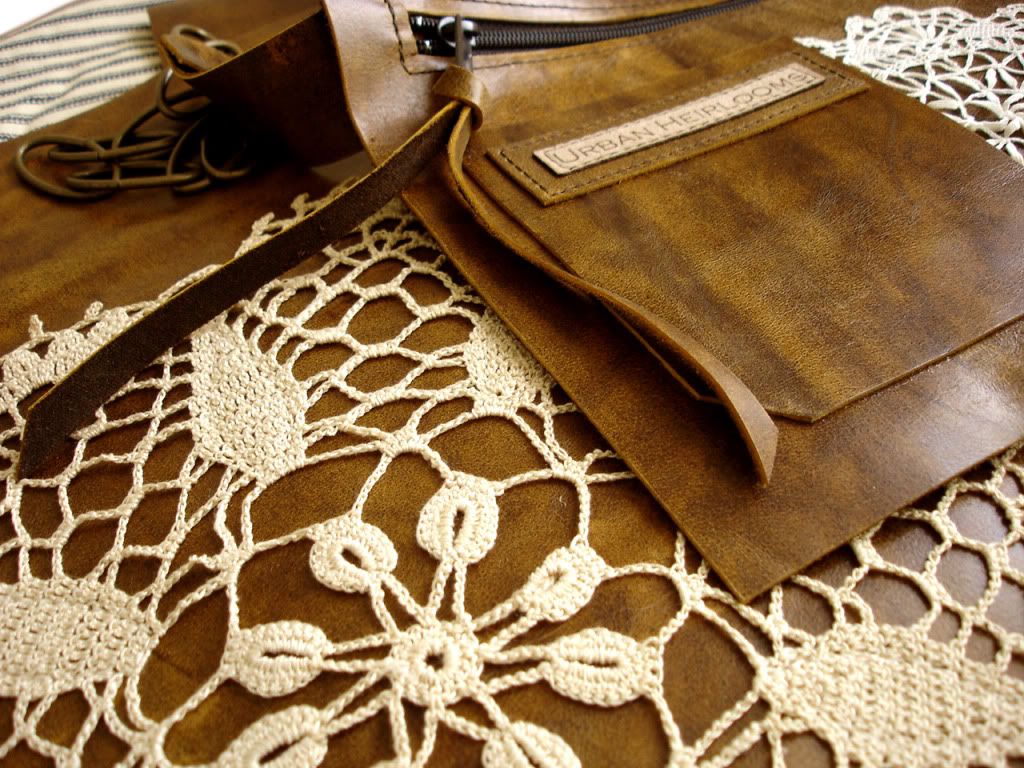 Details from the new XL Gypsy Messenger Bag from Urban Heirlooms. Shown while still in progress, this one is lined with a classic ticking stripe and features an inside zippered pocket and cell phone pocket, plus a patch pocket on the back with a leather tie. Coming soon!
I had so much fun
with and got so much attention from
my last collection
of leather and crochet lace gypsy bags, I decided to continue in that vein and work on another collection.
This group will feature a burnt sugar brindled leather (think caramel colored with darker striations of color throughout the hide), more fabulous antique keys and matching antique brass hardware, plus lots of special, nifty little details I think you'll really love.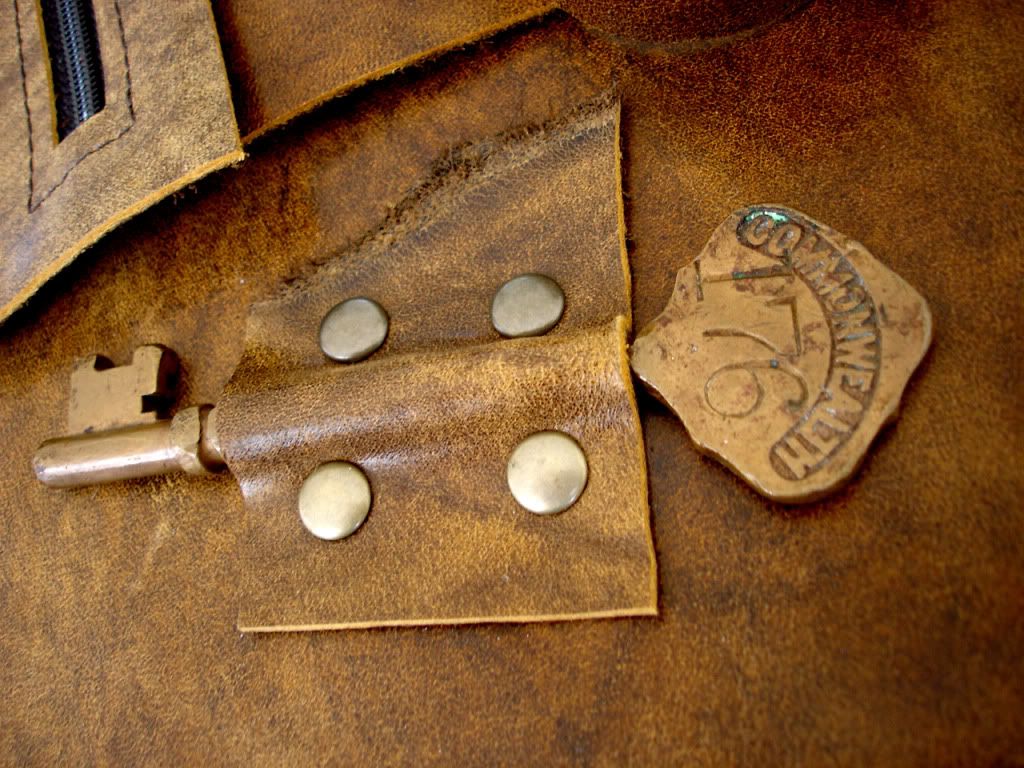 Making History:
An antique key from the Commonwealth Steamship makes a special souvenir on the new XL Gypsy messenger bag.
The gypsy bag I just finished stars one amazing antique key! It's a stateroom key from the steamship Commonwealth; Room 176 to be exact. I wonder what guests slumbered in that fancy cabin?
"
Commonwealth
was a large
sidewheel
steamboat
built in 1854–55 for passenger service on
Long Island Sound
. The most celebrated Sound steamer of her day,
Commonwealth
was especially noted for the elegance and comfort of her passenger accommodations, which included gas lighting, steam heating, and an "enchantingly beautiful" domed roof in her upper saloon...
"The saloon deck also featured an after cabin fitted with thirty large sofas, allowing passengers to "sit and enjoy the magnificent prospect of the evening passage on the Sound with comfort.
The main passenger deck (housed) 120 staterooms, fitted with two beds each, and a number of bridal suites. The staterooms were large, well-ventilated, and designed with "Oriental elegance", incorporating materials such as
satin
damask
,
moquette
,
lace
,
velvet
tapestry, and
rosewood
furniture.
Also on this deck, abaft of the engine room, was "a spacious and splendid ladies' cabin, unsurpassed in style and finish."
"During the American Civil War, (the Commonwealth) was part of the transport network that moved northern state Union regiments to the battlefront.
Commonwealth
'
s end came prematurely when she was destroyed by a dockyard fire at Groton in December 1865." -
Wikipedia
How's that for history in the making?