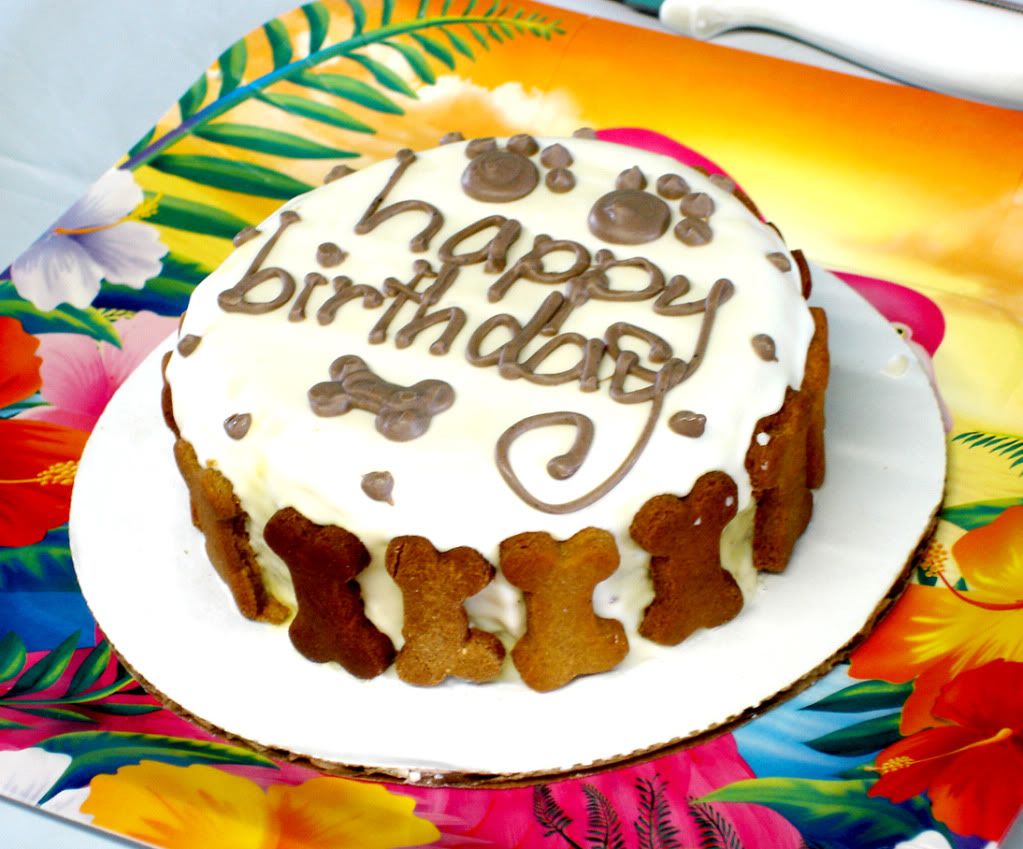 Birthday cake served at our Small Dog MeetUp group. We had a party for all the dogs born in August. This cake for dogs is from Woof Gang Bakery in Atlanta, GA. It disappeared fast!
Today is my dog Tigger's birthday!
The birthday boy is 8 years old, and I swear, this Westie is the best dog in the whole wide world. It's hard to believe we've had him for 6 years already, as he was only 2 years old when we drove from New Jersey to Philadelphia to meet him halfway between his home in Northern Virginia and ours.
My husband and I had been searching high and low for a dog of our own, pathetically stalking other people's dogs, visiting shelters and applying for dogs at rescue societies for a dog who would fit into our lifestyle. We even found ourselves attending the Purina Challenge one Saturday, giddy as we watched dogs perform agility runs and squee-ing after spectators' pups.
We found Tigger when I did an email blast to everyone I was connected to and let them know we were looking for a small dog to share our lives. A woman in my book club just happened to have a brother who was looking for someone to take his little dog, as he and his wife spent long hours at work and couldn't devote as much attention to Tigger as they wanted to. After many emails and some photos, we totally fell in love with this adorable little West Highland White Terrier with his spunky stance and terrible haircut. We wanted him badly!
What an angel he turned out to be. Perfect for us in every way. After a couple of sleepless nights of him woofing at every little sound in the city, he finally settled down into our home. Afraid I'd be allergic to him, I foolishly thought I'd be able to keep him off the furniture...nope...out of the bedroom...nope! (he burst right through the French doors!) and off the bed...not a chance! In fact, he
always
goes and lays on
my
side of the bed (because my husband says I smell like sweet milk (I think that's a compliment! LOL). But what's a few sniffles and boxes of Kleenex and Swiffers between best friends?
We got a loving, funny, well-behaved but certainly obsessive-compulsive, almost perfectly house-trained dog who in the beginning walked over to his coat when he wanted to go outside. Now he runs from it and once we get it on him, he does laps around the coffee table like it's some weird ritual.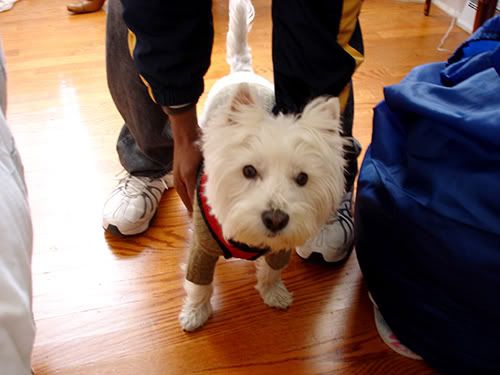 It wasn't long after we got him that I went on a mission to create a snazzy wardrobe for him -- atonement for a mother's guilt and shame from sending him out in the pouring rain wearing a trash bag one dreadful night. It began with a shiny black patent leather raincoat with a vintage print lining, then graduated to sweaters and additional coats. He had a better wardrobe than me; why, he snagged the attention of many dapper gents in our gentrified neighborhood!
I couldn't resist buying this hoodie on Ebay. Cuz all Jersey Boyz wear sweatsuits!
Fuhgeddaboudit!
We laugh daily with him in our lives; he certainly brought a lot of much needed comic relief during some very tough times. He plays with his food, flipping kibble in the air, then batting at it with his paws, and he's mercilessly destroyed many a stuffed animal--too numerous to count-- as we stood by gaping in horror.
Oh...the carnage!
Despite his typical Westie stubborn ways, not one day goes by that we don't coo about how cute he is and how lucky we are to have him!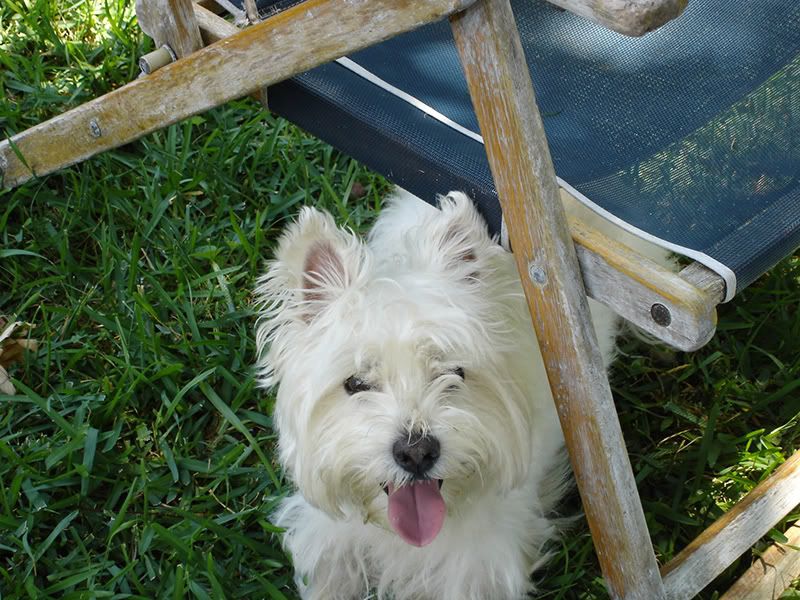 Relaxing at Grandma's house on the lawn. Ahhh, Happiness!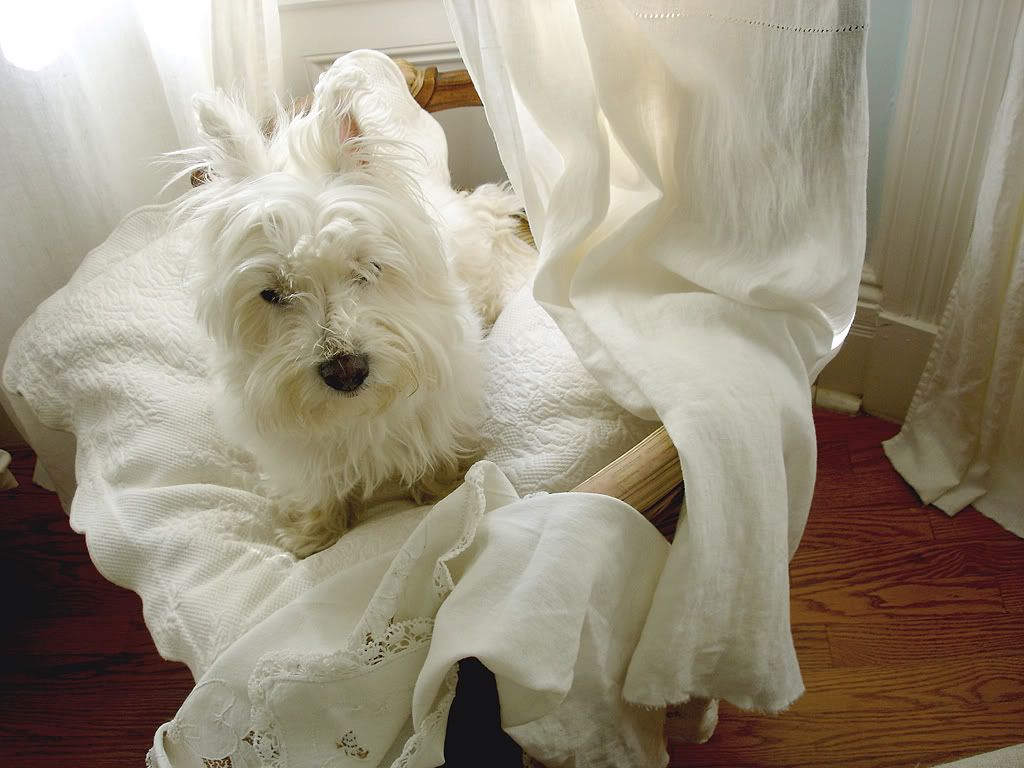 Enjoying a sunny spot in the window
Happy Birthday, Tigger! You totally rock!