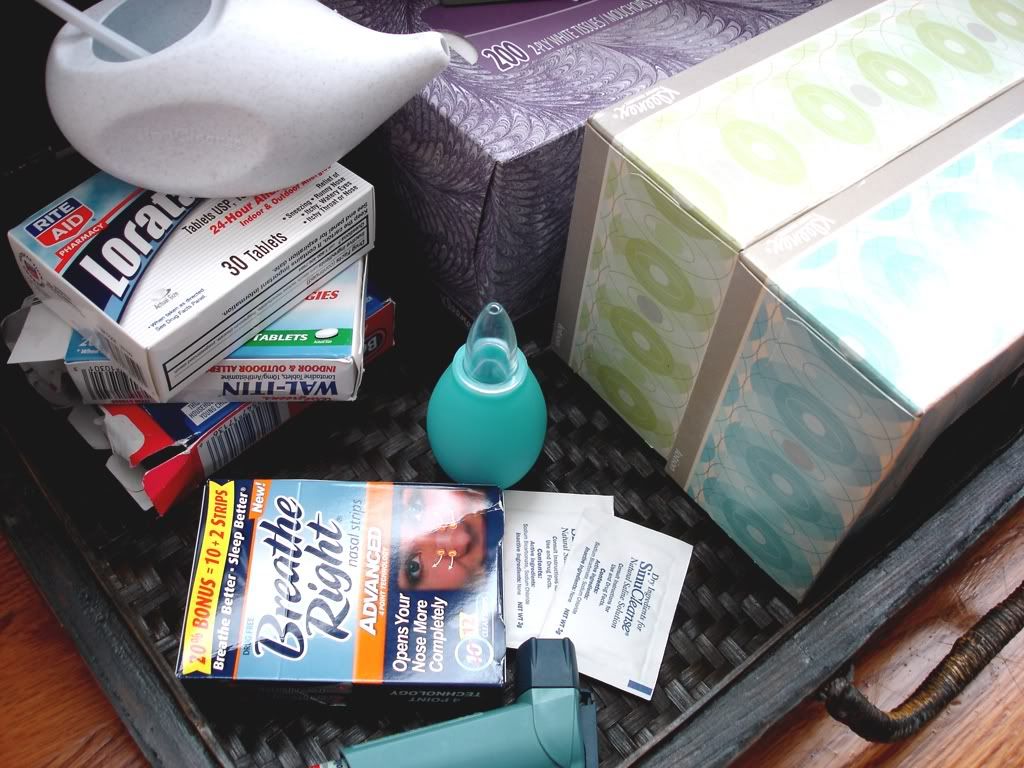 BEHOLD my arsenal of allergy remedies!
This is how I make it through the spring...and summer...and fall...OK, and winter!
See that little plastic Aladdin's lamp thing sitting on top of a box of Loratidine (Generic Claritin)? That's my neti pot. The one I bought twice. Because I chickened out the first time. And the second time. And quite frankly, I just love saying it! Net-i…pot…
I'd read several
articles
espousing the miracles of the neti pot and and how it was like an archaeology dig for your sinuses, but I don't like feeling that I'm drowning…that swimming pool water up the nose burning headache worse than brain freeze. I've traded it for a little bulb nasal irrigator. Not much better but less intimidating and a tiny bit more tolerable. Still hard to commit. OK, I've abandoned that too!
It not easy being allergic:
When my husband wakes up to find my wadded tissue close to his face…that ain't sexy.
When I sneeze--which is quite often in fits of multiples-- my dog just casually exits the room. I'm starting to take offense!
When a strange Beagle recently jumped on my lap at the dog run, I had to pay a visit to the emergency room because I spontaneously broke out in hives.
I just realized I could be each of Snow White's 7 Dwarfs:
Bashful
(don't look at me, I'm a sneezy mess!)
Doc
(how many refills of Flovent do I have? )
Dopey
(I'm floooooooatinnnnnng…is your side of the room spinning?)
Grumpy
( I know I'm running late! If I can stop blowing my nose I could get dressed already!)
Happy
(Oooh, 4 more boxes of Kleenex…with Lotion! Yes!!)
Sleepy
(I want to do some work but I can't seem to move off the couch…ok, 5 more minutes, I promise)
Sneezy
(God bless me!)
I spend a fortune on Swiffer dust cloths because we have a
beloved hairy beast
who's worth every penny. There's a box of Kleenex in every room and the insides of all my pockets and purses are flocked with tissue dust.
And speaking of dust...while we're packing for
our big move
, we're stirring up dust bunnies we didn't even know existed! So, I just ordered a couple of these, on sale at Amazon.com:
After reading scads of mixed reviews for the Sharper Image Ionic Breeze (most prized for not using those pesky filters that always need replacing and soon become obsolete anyway), I decided to try two of these (highly recommended and allegedly quiet and effective) HB units with a permanent HEPA filter you just vacuum off. We'll see how that goes. Hopefully they won't end up on the top of the pile at our Graveyard of Obsolete Electronics!